Girl. Over the years, more and more plus size events have been popping up and you know what? We are here for all of them! Whether you are looking for a plus size fashion show, Full Figured Fashion Week, an empowerment event, some great networking, or even an Expo or Cruise, if you are looking to get out and connect with fellow Curvy Fashionistas and Big & Tall Men, then there are more than a few events to whet you fashion appetite!
So, thanks to the ever resourceful Aqila of @TheFullersideofThings, we were able to have an amaaaazing starting place for all of the plus size events coming down the pipeline for this year! So what we have done is list out some of the tentpole plus size events that you need to have on your radar! I already imagine that you are about to get to earn your miles and hotel stays, if you are anything like us, trying to make it to all of these plus size events! Are you ready to bookmark and share?
Here we go:
The Must Attend Plus Size Events to Bookmark for 2018!
The Jose Pagan Photography Photo Tour
Dates: Starts March 3rd in North Carolina
Are you a plus size model, fashion blogger, or someone looking to snap a great look? Well, then you should look into this national photo tour that WE, The Curvy Fashionista, are media partners for!
My objective with this tour was very simple from the start. People want to shoot with me, but it's not the easiest to come to New York. It can be a budget breaker, so I decided to bring my vision to a city near you!
This Photo Tour gives you the opportunity to build your portfolio, add a few fly outfit shots to your site, and to get a little practice with a pro!
Your image is your resume, so why not let me give you images that help you find work and get you noticed by paying clients. Jose Pagan
Dear Fat Girl Presents: The Goal Getters Brunch
Date: March 3rd, 2018
Time: 12-3pm
City: Baltimore, Maryland
Each Year We Create Vision Boards and How Many of Us Actually Attain Those Visions?
In order to reach the vision, you've got to create goals that are measurable in order to reach the overall vision of your brand… which is you and your life. Join Dear Fat Girl for Girl Talk, Goal Getting and Mimosa's.
Get tickets to The Goal Getters Brunch at Eventbrite.com
The 4th Annual Ladies In Red Concert & Award Show 7pm
Date: March 3rd
Time: Red Carpet Reception at 6pm, Show starts at 7pm
City: Newport News, Va
Myra Smith presents the 4th Annual My Sister's Keeper: Ladies in Red Concert and Award Show. The event will celebrate women in Hampton Roads who have made a positive impact on those around them. The event will begin with a red carpet reception at 6:00 PM and the on-stage performance will begin at 7:00. Tickets are $15.
Get your tickets for this show at Eventbrite.com
The Plus Size Virtual Summit presented by Plus Size Events
Date: March 1st-4th
Location: Online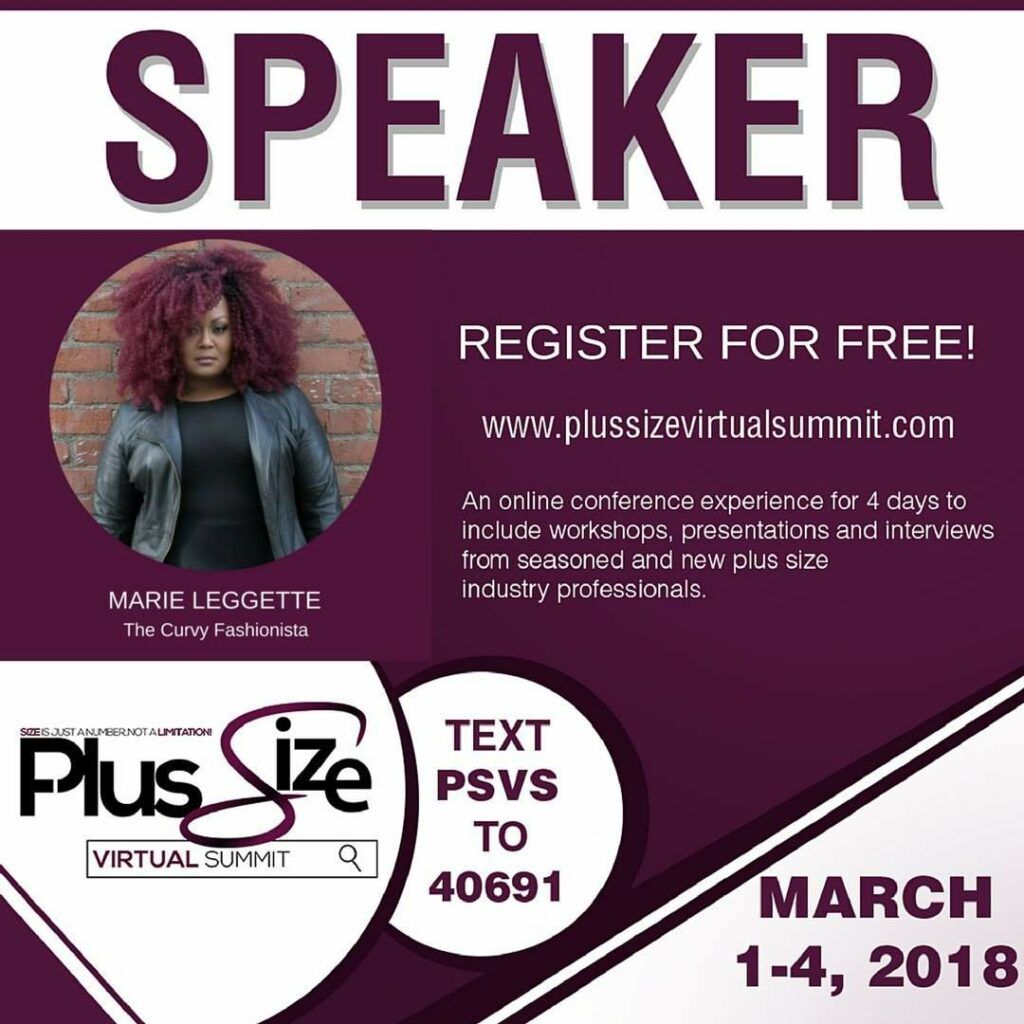 The Plus Size Virtual Summit will take place March 1-4, 2018 and provide women with an online conference experience for 4 days to include workshops, presentations, and interviews from seasoned and new plus size industry professionals in the areas of:
Business (Starting a Business, Sponsorships, Writing and Publishing Your Own Book, etc.)
Plus Size Modeling
Health and Fitness for the Curvy Woman
Relationships/Mindset
Acting/Entertainment Industry
Fashion (Styling, Designing, Manufacturing) and more
Our very own Marie Denee is a speaker at this summit too!
Straight/Curve redefining body image presents by @plusintheDMV
Date: March 15th
Time: 7pm
City: Washington, DC
Please join your favorite Curvy Girlfriends of the Plus Size Fashion Podcast "Plus in the DMV" for an exclusive, one night only screening of "Straight/Curve: Redefining Body Image".
Power Plus Weekend
Date: March 23rd– 24th
City: Raleigh, NC
The Power Plus Weekend is a TWO-DAY event created to celebrate, empower, educate, and showcase the best in Plus in North Carolina! This event features model workshops, influencer Breakfast, Shopping Expo, Networking and Social Events.
Get more information and details at Eventbrite.com
Crusade of Curves
Date: April 5th- April 8th
City: Raleigh NC
Crusade of Curves is a four-day body positive movement and event, created to recognize the Curves of Carolina on the Fashion Runway. Their aim is to impact, the plight is vast, their curves are devastating, and their strut is exceptional.
Learn more about the four-day weekend at CrusadeofCurves.com
District of Curves: DC Full Figured Fashion Network
Date: April 15th – 21st
City: Washington, DC
District of Curves is the premier Full-Figured Fashion Showcase in the Washington, DC area. Founded in 2014 by Mickey Armstrong and his executive team, District of Curves was created to shine a light on the plus size fashion industry in the Washington DC Metro area. The show has quickly become a staple in the Washington DC plus size fashion community, and has become a platform for local models, designers, and retailers.
Phat Girl Fresh Presents: The LifeStyled Honors
Date: April 28th
City: Atlanta, Ga
This is an annual event that celebrates the beauty and brilliance of women. Each year both men and women travel from all over the world to celebrate the year's elite group of Honorees. As the event gears up for year 5, we are excited about the 2018 Honorees and all of their accomplishments, especially as The Curvy Fashionista is a media partner!
The Ms Full Figured USA Pageant
Date: April 28th
City: Newark, NJ
The Ms. Full-Figured USA Pageant founded in 1989 by Ms. Theresa Randolph & Jackie Epps is an organization of diverse women in age, race, shape, and size all located throughout the United States of America.
MSFFUSA extends a wide range of pageantry experience, sisterhood, mentorship, model training, and provides a unified network for women, while supporting the autonomy of the local community. We recognize that it is the responsibility of both men and women to serve, sacrifice and lend support to strengthen one another in an effort to further all of humanity.
Learn more and get your tickets at Eventbrite.com
The Fuller Side of Things presents: Netwerq Your Ass Off
Date: May 12th
City: TBD
Who else is ready to elevate their #GlowUp? Are you finding yourself going to event after event and feeling like you wished you made connections?
OR Going to event after event and feel like you aren't getting the results you should after because you don't know how to "Follow Up"? ☆Do you regret not talking to someone because you overheard them say something that interest you but you didn't know how to approach them? ☆Are you willing to talk to people but have no idea what to say?
If you answered YES to ANY of these questions, then #NetWerq Your Ass Off Seminar will be the place for you to be!
More details to come soon…
A BRAND IDENTITY WORKSHOP: "One Size Doesn't Fit All"
Date: May 19, 2018
City: Atlanta GA 1 – 4 PM
Join THE FLUFFY GIRL TRIBE for positive vibes, light refreshments, panelists and much more at our first annual workshop! So many burgeoning bloggers, designers and boutiques have questions on developing their business brand so we're here to give you the tools, the insight and so much more!
Full Figured Fashion Week
Date: June 18th-23rd
City: New York, NY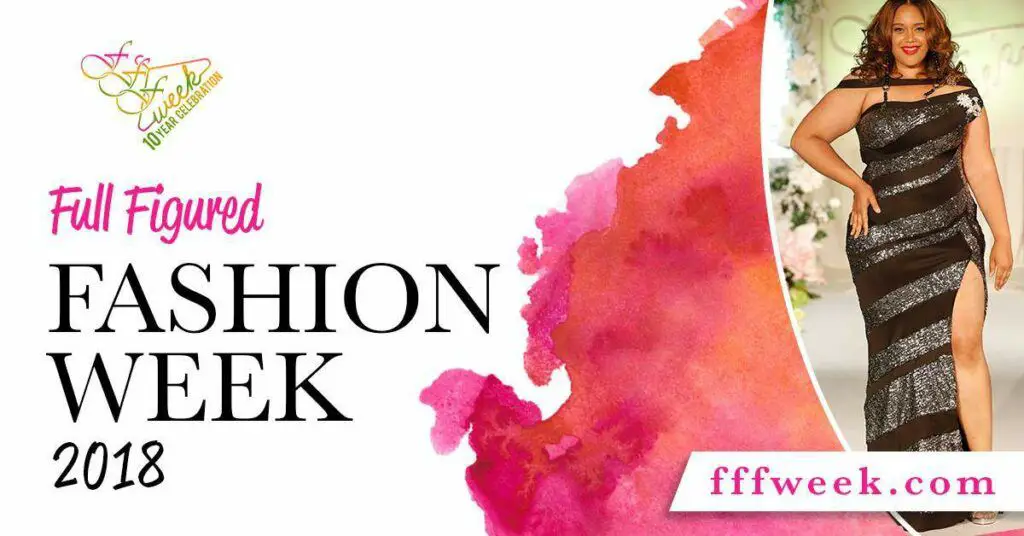 The mission of FFFWeek® is to empower plus size women through fashion and the event has quickly evolved to match the industry's growing focus on the plus-size business opportunity as well. The success of the event has led it to become the number one networking opportunity for all businesses with products and services for plus size women, connecting brands with curvy influencers — the bloggers, independent designers, fashion industry professionals, and entrepreneurs in attendance who are driving the plus-size market.
For more information, please visit FFFWeek.com
Essence of Curves presented by 3pconsultants
Date: July 7th
City: New Orleans, LA
Essence of Curves is an exclusive Plus experience happening in New Orleans during Essence Fest weekend! This event will take place on Saturday, July 7, 2018 at the luxurious Waldorf Astoria Roosevelt Hotel-New Orleans, which is centrally located in the city's French Quarter.
For more information, please visit EssenceofCurves.com
TCFStyleExpo
Date: August 11th-12th
City: Atlanta, GA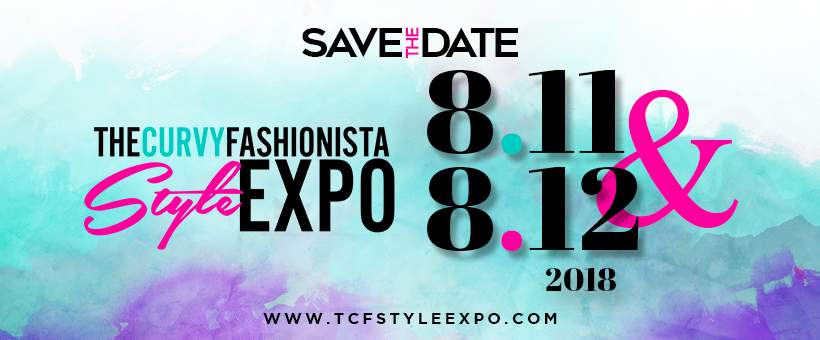 Since 2015, the TCFStyle Expo, is a body-positive fashion convention that takes online conversations about plus-size fashion and advocacy, offline. Independent and mainstream fashion brands are represented here, and women & men bond over style, entertainment and empowerment.
For more information on how to participate, visit TCFStyleExpo.com
TCFCruise
Date: October 11th– 15th
City: Leaving out of Tampa, FL and cruising to Cozumel, Mexico
For more information, please check out the TCFCruise post, here!
TCFTurns10
Date: Dec 8th
City: Atlanta, Ga
So excited for our 10th year anniversary! Can you believe it has been ten years? Well, neither can we and to celebrate, we are going to bring it in for December! Deets coming soon!
Whew! Girl… you ready for all of these events? Do you have your frequent flier miles handy? I know I do! LOL This does not include the castings, meet & greets, and events that are happening this coming up week & weekend.
This is only a working list… especially as we add to it! Was your event left off, no worries, drop the deets in the comment or shoot us a note and we will add to it!
Which events are you going to? I want to hear from you!